WHATEVER HAPPENED TO THE BOMB-MAKING FACTORIES IN WEST BENGAL?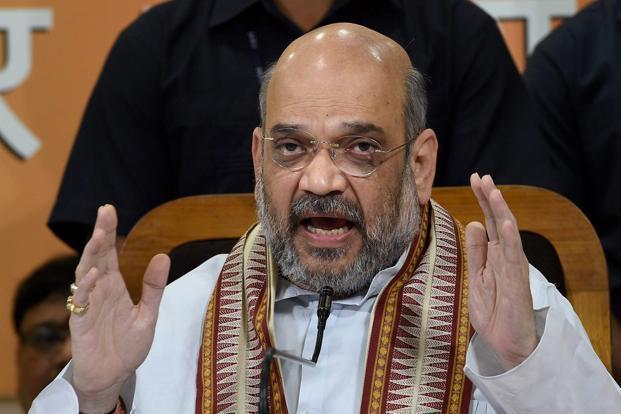 Image Courtesy: PTI
Are the Ministry of Home Affairs (MHA) and its in-charge, Home Minister Amit Shah, at variance with each other? This question has acquired a new meaning as, within a year, there have been at least two occasions when the MHA has not supported Shah's public claims on matters with a direct bearing on the internal security of the country.
Take the interview of Shah done by a news channel last October. He claimed in it that the law and order situation had "gone for a toss" in West Bengal. The state, he went to the extent of claiming, had "bomb-making factories" in "every district". This explosive claim of the number two in the Union Cabinet was lapped by mainstream media and soon there were calls to impose President's Rule in the state.
Four months later, it has become clear that the ministry Shah heads has not a clue about his claim. This is what the responses to well-known transparency activist Saket Gokhale's queries under the RTI Act would suggest. He posed four pointed questions regarding the "bomb-making factories"—list of such factories if the Home Affairs Ministry had briefed the home minister about them, whether his remarks were based on official records and whether the West Bengal Police had been informed about these "factories"?
After dilly-dallying initially, the Ministry supplied the information when Gokhale said he would seek legal recourse for denial of information. So, finally, the official response came that the information he had sought is "not available" with the ministry. In its response, the central ministry said the petitioner should ask West Bengal Police if it has information on factories.
This is how the Union Home Ministry had responded to the allegations about a "tukde-tukde gang". This term was coined and popularised by the supporters of the present dispensation to target its detractors and the people in power have used this term too. The term was regularly used by pro-State media persons such as Arnab Goswami.
Even Amit Shah used the "tukde-tukde" slur to mislead citizens about the true import of the Citizenship (Amendment) Act, 2019, as have his Cabinet colleagues in different contexts. Prime Minister Modi himself seemed to allude to the term during a pre-election rally in May 2019, when he said, "Desh ko tukde-tukde karne wale ke sath Congress khadi hai…"
Here, too, the Union Home Ministry was asked, via an RTI application, why this gang has not been banned under the Unlawful Activities Prevention Act (UAPA) and who its members are, it admitted that it has no information on any such gang.
Now, how can we explain the difference in views of the Ministry of Home Affairs and the Minister in charge of it on such sensitive issues? It would be wishful thinking to see that Shah does not have command over the ministry he leads or he is at loggerheads with it. So, the only possible explanation is that there is a deliberate attempt to make such statements without a care for their consequences.
Does spreading unverified information—which people would ordinarily call lies—have the protection of Article 19(1), the right to freedom of speech and expression? What if the information can have, or has, negative consequences for those whom it refers to? Article 19(2) places "reasonable restrictions" on this right in the interest of public order, defamation, or incitement to an offence. In other words, the freedom of expression is not absolute and other values, such as equality and non-discrimination, are also critical to the constitutional scheme.
A second question then arises: Does making false statements amount to hate speech? The whole idea of hate speech must be set in a broader framework. In this book, Offend, Shock and Disturb, Gautam Bhatia discusses legal philosopher Jeremy Waldron's views on hate speech. According to Waldron, hate speech causes damage to two basic values that underlie modern democracies. The first is inclusiveness and the second, dignity.
Pluralist societies have racial, religious, and philosophical, multiplicity. Inclusiveness then becomes a guarantee to each person, as an individual and as a member of any group, that she can lead a life without "hostility, violence, discrimination or exclusion" by the rest of society. This, according to Waldron, ought to instill a "sense of security in the space that we all inhabit", or the public domain.
Dignity is the second basic value that gets implicated in hate speech. Waldron understands dignity as equal citizenship: an affirmation of everyone's "basic social standing…as a proper object of society's protection and concern."
Bhatia discusses how "inclusiveness and dignity stem from the basic idea of equal moral membership in the polity". He also refers to Ronald Dworkin, the American jurist, who supported "equal respect and concern". To him, that means no person's "basic moral worth or status" should be denigrated in society.
Considering that a very senior leader in the government is at the centre of these two controversies, is it not apt that the highest court shares its considered opinion on the controversies? Perhaps a quick deliberation on the two phrases would be better, as the menace of unsubstantiated—fake—news is now alarming.
The social fabric can be severely damaged by rumours about goings-on that have national security implications. Fear that spreads because of rumours and innuendos can lead to violence.
The usual suspects—troll armies, prejudiced social media outlets, and users—are regularly condemned. Last year the operations of Facebook had come under the scanner after an expose by the Wall Street Journal on how its rules on hate speech collied with Indian politics. That incident rekindled the debate about weaponising news and the threats it poses to democratic debate.
In this ambience, maybe, every word uttered by people who hold the reins of power is important. After all, it can easily be taken for the gospel truth by people, who tend to believe what their government says. The future of any such democratic experiment would always remain in peril unless its leaders stick to verified—or at least verifiable—truths, for going in the other direction can have terrible consequences for people.
( Originally published in Newsclick)