The most remarkable development during his time in Brussels was the penning down of the Communist Manifesto, which firmly established Marx as well as Engels as the intellectual leaders of the working class movement.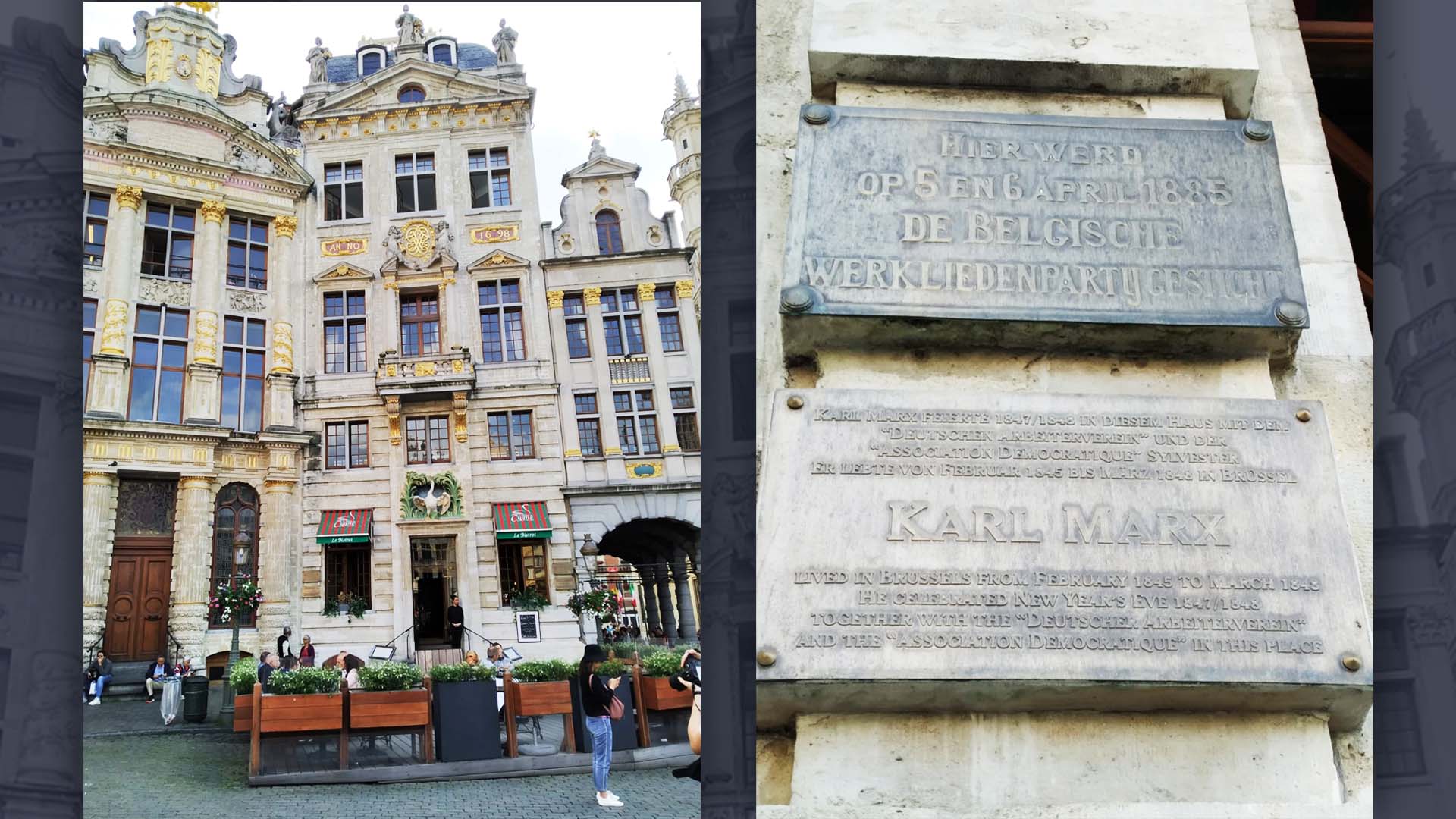 Karl Marx

Lived in Brussels from February 1845 to March 1848

He celebrated New Year's Eve 1947/48 together with the "Deutscher Arbeiterverein" and the "Association Democratique" in this place
The plaque put on a building which housed a restaurant 'Le Cygne, The Swan' now is the only memory left of the days when history was 'made' here. According to legend, it is the same place '[w]here the First International had convened'  and Marx and his lifelong friend and comrade Engels '[h]ad written the Communist Manifesto'.
No doubt it was the same place when Marx, Engels, Mozes Hess – who was another early luminary of socialism and who supposedly had influenced Engels about communism – and other associates of the surging workers movement pondered over many of those ideas which have been memorialised in the opening sentences of the Manifesto, "A spectre is haunting Europe — the spectre of communism…."
May be the historic slogan 'Workers of the World Unite, You have nothing to lose but your chains' which later reverberated throughout the world – whose echoes are still heard – had its 'humble' beginning in one of those very rooms, where Marx and his close associates used to educate workers about their exploitation.
Scores of people sitting in this particular restaurant which was serving them sumptuous food and choicest drinks were completely oblivious of all those details. Few of them rather looked at us with a sense of disbelief and dismay, when they witnessed us taking photos of the nondescript wall which had the plaque put on it. Perhaps they looked more satisfied that they are enjoying food at a place which is situated on the Grand Place or Grote Markt, which is the central square of Brussels and is considered one of the most beautiful squares in Europe and is also part of UN Heritage.
( Read the full article here : https://www.newsclick.in/karl-marx-in-brussels)