Guest Post by FTII Alumni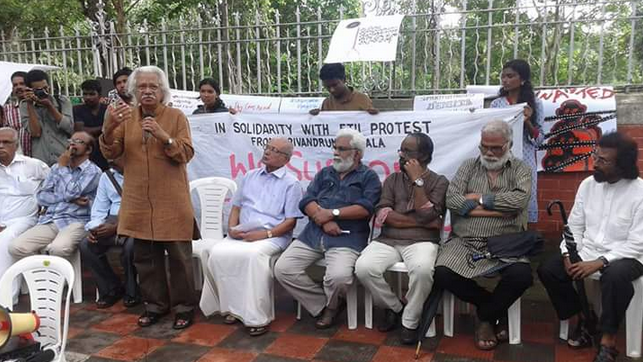 (Image : ftii hashtag on twitter)
The students of Film & Television Institute of India (FTII) have been receiving tremendous support from across the country for their strike against the appointment of Mr. Gajendra Chauhan and others in the Governing council of FTII.
As a result of sustained public pressure , I&B ministry has opened up a channel of communication to discuss the issue and a meeting has been fixed with a delegation of students and alumni of FTII on 3rd July, 2015 at the Information and Broadcasting Ministry office, Shashtri Bhavan at 3 pm.
The students efforts at reaching out to more and more has been met with blocking of their various social media platforms.The mainstream media is sending out contradictory messages. This has left the
students vulnerable.
The struggle by FTII students becomes important for all of us since this is not an isolated attack on education and cultural institutions. When looked through the lens of the recent appointments at institutions like ICHR, NFDC, IIT Delhi, CFSI and CBFC or the de-recognition of Ambedkar Periyar Study Circle among others, the resistance of students at FTII becomes even more pertinent and important.
We, as alumni of FTII, urge you to come and stand in solidarity with FTII students as they talk with the ministry. We will assemble at 2pm outside Shastri Bhawan, I&B Ministry (next to Central Secretariat Metro Station).
If we don't register our protest at this crucial juncture, it won't be long before all higher educational and cultural institutes are reduced to being mere puppets of the state, inaccessible to economically weaker and marginalised sections of our society.
Please do spread the word and come in large numbers with banners and posters and other creative forms of expression to show solidarity with this crucial fight to save our cultural and higher educational institutes.
In Solidarity,
FTII Alumni
(https://www.facebook.com/events/1451618191826327/)
For further details, please contact-
Kislay- 09049479725
Nakul- 09560924115
Aditi- 09911513144