Trivialisation of the freedom struggle is in the Hindutva gene, which seeks a theocracy, not an independent republic.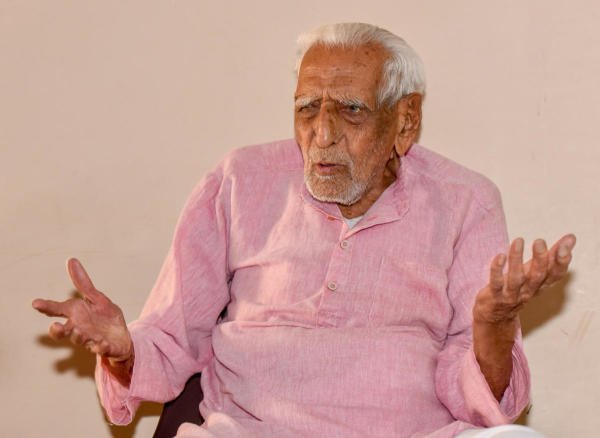 "Though this be madness yet there is method in it."
Hamlet, William Shakespeare.
The saffron brigade's ever-readiness to stigmatise people holding differing opinions and dissenting voices reached a new low recently.
Perhaps it was the saddest day in post-independence India when a Karnataka BJP legislator hurled abuses of being a 'Pak agent' and 'fake freedom-fighter at 102-year-old freedom fighter, H Doreswamy.
Sadly, not many outside the state would know that Harohalli Srinivasaiah Doreswamy, born on 10 April 1918 in the former princely state of Mysore, was first jailed in 1942 during the Quit India movement. He was associated with a group involved in making bombs and spent 14 months behind bars. After his release he continued with his mission and following Independence chose to work with slum-dwellers, the homeless and poor landless farmers, cobblers and porters. He kept himself aloof from holding political power.
In 1975, he challenged then prime minister Indira Gandhi when Emergency was declared, civil liberties were suspended and again faced jail under the draconian Defence of India Regulations Act. Despite old age, his enthusiasm for public causes remains undiminished. One issue closest to his heart remains getting the poor and the landless right to land.
Of late, he has been a prominent figure at protests against the controversial Citizenship Amendment Act (CAA) and has been openly critical of the BJP-led central government's policies.
The BJP legislator under question is Basangouda Patil Yatnal. When the issue was raised in the Karnataka Assembly, forget issuing an unconditional apology, Yatnal remained adamant. Not just that. He got the support of many of his colleagues. It would be asking too much for the government to take action; a reprimand or case against the legislator for his comments, though they violate the Constitution which considers disrespect to freedom movement a "violation of our fundamental duties".
( Read the full article here : https://www.newsclick.in/Not-Just-Doreswamy-India-Idea-of-Independence-is-Being-Debased)